Our Pick Your Own is currently closed...
We have now reached the end of our PYO season, which usually finishes with pumpkins in October. We will be back open towards April, with a fresh crop of fruit and vegetables for you to pick. We do still sell some of our homegrown produce through the Farm shop at this time of year, such as our crops of kale.
Technically, PYO will be back open during December, when you have the opportunity to Pick Your Own Christmas Tree from our locally grown selection!
Summer was made for PYO fruit!
During the summer months we offer the opportunity for customers to pick their own fruit and vegetables. It is a great opportunity to see where your produce comes from and how it is grown. We have PYO available from the first strawberry in June, to the last pumpkin in October.
We have been growing soft fruit and vegetables on this site for over 35 years and have it down to a fine art. Over the years we have experimented with different varieties and growing methods when it comes to our strawberries, this is to ascertain what is best for both flavour and yield. We are now mainly growing Vibrant, Malling Centenary and Florence as these produce fantastic tasting fruit, but also mean they will be ready at different points in the season helping us extend availability.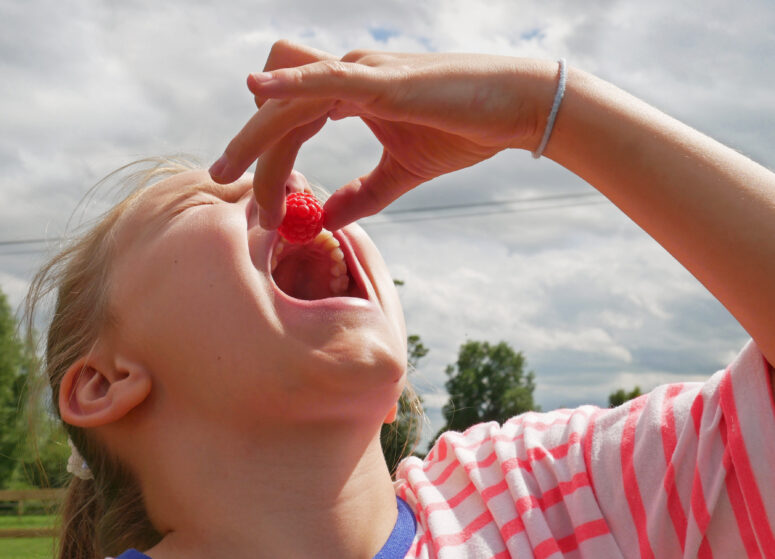 In addition to the strawberries, we also grow; raspberries, gooseberries, blackberries, rhubarb, blueberries, black currants, red currants, broad beans and pumpkins all available for picking at varying dates across the season. This list is our fundamental range of crops. Farmer Will has huge plans for the farm including experimenting with sunflowers.
When you visit during the summer
So we can manage the number of visitors on site at anyone time, but also ensure that we have enough fruit to be picked, we have implemented a pre-booking system for the Summer season.
If there are no available dates listed, it will mean we do not yet know whether we can admit people onto the PYO site on that date. We only release slots a couple of days in advance so we can be positive that there is enough fruit so we can avoid any disappointed pickers.